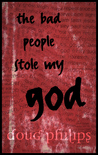 The Bad People Stole my God
by
Doug Philips
My rating:
4 of 5 stars
BOOK DESCRIPTION:
The true story of how a father, a son, a brother, a friend, a dog lover, a 40-year-Catholic, and a close personal friend of Jesus Christ became a full blown non-believer; but somehow remained a decent person.
MY REVIEW:
This was a pleasure to read after the previous book I reviewed (Leaving the Quiet Room). There is nothing new in terms of the arguments offered against Christianity/religion. But Philips writes with great humour making this a fresh read. He takes the perspective a Catholic with a strong relationship with Jesus Christ and the "mistakes" he made in being seduced by the "bad people" atheists. (I kept thinking of C S Lewis's
The Screwtape Letters
although Philips is not as profound.) It's short, witty, and well paced and demonstrates empathy and respect for those who disagree with him.
View all my reviews